This review of the ROCCAT HIRO gaming mouse pad is the first in a series of ROCCAT reviews featuring a complete set of gaming peripherals with the ROCCAT KONE XTD, ROCCAT ISKU FX, ROCCAT KAVE and ROCCAT SAVU.
ROCCAT HIRO Unboxing
As with all other ROCCAT mouse pads, the ROCCAT HIRO retail packaging has small surface samples on the outside. This is great if you buy from a retail store, as it is possible to get a feel of the surfaces before making the decision to buy.
The blister pack is easily opened by removing the cardboard top and unfolding the hard plastic protection. No need for scissors on this one, and thereby no risk of damaging the mouse pad.
The ROCCAT HIRO comes in typical ROCCAT colors with a black surface and light blue rubberized bottom. With its measurements of 350 x 250 x 2.5mm, the ROCCAT HIRO is considerably smaller than what we have seen with other ROCCAT mouse pads. If you have ever tried one of ROCCATs other mouse pads, I bet you can agree that they are huge and that the ROCCAT HIRO is more appropriate in its dimensions. For comparison, the following photo shows the obvious difference when compared to my trusty ROCCAT TAITO mouse pad:
Even though I have been very fond of my ROCCAT TAITO, I definitely welcome the ROCCAT HIRO as a well-engineered upgrade with improvements of size, top surface quality, bottom surface rubber type and no-fray edges.
ROCCAT HIRO Quality
The immediate impression of the ROCCAT HIRO is that it is built to last. The "3D vulcanized silicone surface" seems to be much more resistant to scratches than other ROCCAT mouse pads, while also being very easy to clean for whatever substances you might spill on it. Mouse movements on this type of surface are both very smooth and precise. Notice that that the ROCCAT HIRO not only has rounded corners, but also rounded edges along the all sides on the top surface. This makes the surface less likely to start fraying at the edges. This, in addition to what appears to be a one-piece silicon top layer, suggests that the ROCCAT HIRO can be expected to live up to the promise of "ultimate battle durability" it claims on the packaging.
The bottom side of the ROCCAT HIRO is made of a light blue rubber material, providing a good connection with the table surface. This particular material is new to ROCCAT products, and I must say that I am very pleased with it. The ROCCAT HIRO is by far the most stationary mouse pad I have tried. It is not completely immovable, but you won't have to correct its position on the table very often. I have no idea why ROCCAT decided to put their logo on the bottom side as well, as you will never see it. Fortunately it doesn't impact its ability to stick to the table surface.
The ROCCAT HIRO seems to be one of the more durable mouse pads on the market right now, which explains the relatively high price.
+ Build quality
+ Scratch resistance
+ Easy to clean
– Price
ROCCAT HIRO Ergonomics
The ROCCAT HIRO will fit very well on desks of most gamers, with its relatively compact size. Fortunately, simultaneously providing a very reasonably sized usable area, sufficient for a wide range of sensitivity settings. For low sensitivity gamers, the ROCCAT HIRO provides plenty of room to move the mouse, and for high sensitivity gamers, the ROCCAT HIRO excels with high resolution support tested to comply with up to 16800 DPI mice.
Material choices for the ROCCAT HIRO make it harder than other ROCCAT mouse pads. This gives a feeling of slightly better precision, but also makes it slightly less comfortable to rest your wrist on. Overall I'll say it's a reasonable trade-off, and still way out of the league compared to glass mouse pads.
Overall, the ROCCAT HIRO is a very qualified gaming mouse pad for serious gamers.
+ Size
+ Top surface texture
+ Bottom surface rubber material
– Resting your wrist could be more comfortable
ROCCAT HIRO Features & summary
The packaging suggests that the ROCCAT HIRO mouse pad is packed with features, which has been confirmed through this review. These are the mentioned features:
Rounded edges
Vulcanized surface
Non-slip rubber base
Ultimate battle durability
Shock absorbing
Easy to clean
Silent gliding
Tested with more than 80 mice
Only one feature was not confirmed through this review; that the ROCCAT HIRO should be "shock absorbing", which I did not find very convincing. However, this is actually a plus in my book, as the mouse pad is thus very firm and more precise.
It is obvious that the ROCCAT HIRO is a well-engineered piece of gaming equipment, with numerous improvements over some of the previous ROCCAT mouse pads. Even though the ROCCAT HIRO is definitely in the higher mouse pad price range, the quality and durability is well worth it.
Mivia's blog rating of the ROCCAT HIRO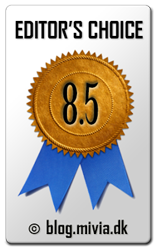 To summarize the review, a score of 1-10 is given in each of four evenly weighted categories, making up a final total score.
Quality 10/10
Ergonomics 9/10
Features 9/10
Price 6/10
Total Score: 8.5
Mivia's blog highly recommends the ROCCAT HIRO!
More details can be found at the official ROCCAT HIRO webpage.
No monetary compensation was received for this review, which is based on my own personal opinion and experience with the product. However, I must admit that I am generally a fan of ROCCAT products =)