This review of the ROCCAT KONE XTD gaming mouse is the second in a series of ROCCAT reviews featuring a complete set of gaming peripherals with the ROCCAT HIRO, ROCCAT ISKU FX, ROCCAT KAVE and ROCCAT SAVU.
You can either read the entire review from start to end, or go directly to one of these sections:
ROCCAT KONE XTD Unboxing
Like other retail packing from ROCCAT, a lot of effort has gone into displaying as many features as possible on the ROCCAT KONE XTD box.
I especially like the fact that you can open the front cover and get a feel for the size of the mouse. There is no size difference compared to the original ROCCAT KONE, but several changes has been made to all other aspects than size.
Inside the box is the ROCCAT KONE XTD with a nice long 2m braided cable, along with 4 x 5g weights in a neat little box and a manual/driver CD.
The ROCCAT KONE XTD weighs in at 122g without any extra weights. If you choose to use the weights for adjusting the gravity point of the mouse, it will of course end up weighing 142g. It is definitely not the lightest mouse ever, but considering the added weight from the LED system and generally quality materials it is definitely not in the heavy end either. For a gamer mouse, I find the weight of the ROCCAT KONE XTD very fitting.
ROCCAT KONE XTD Quality
With numerous upgrades, compared to the original ROCCAT KONE, the ROCCAT KONE XTD is the result of refining an already great product. Shortly after the release of the initial ROCCAT KONE, many customers reported problems with the scroll wheel not being sturdy enough. To avoid similar problems with the ROCCAT KONE XTD, it has been equipped with an entirely new center console including a new scroll wheel. I definitely like both the new buttons and new scroll wheel, as they feel both sturdy and precise.
The surface materials have also been upgraded. Finger surfaces are all covered in a matte rubber-like material, providing a good firm grip on the ROCCAT KONE XTD. It is relatively smudge resistant, and doesn't loose its comfortable feel even under prolonged gaming sessions.
Braided finish on the cable is a nice touch, fitting in with the general quality of the product.
+ Build quality
+ Sturdy and responsive buttons and scroll wheel
+ Comfortable surface finish

– Price
ROCCAT KONE XTD Ergonomics
Designed solely for right-handed users, the ROCCAT KONE XTD has a good fit for right hands of various sizes. The buttons are placed so that it is possible to get a firm grip on the mouse without accidentally clicking random buttons all the time.
I find the relatively low button count to be a good thing, but for people craving more buttons for macros and whatnot the ROCCAT KONE XTD has a trick up its sleeve. The large 'back' button at the thumb is set to be the 'easy-shift[+]' button, providing an entire set of extra functions or macros for all keys while pressed. It takes some getting used to, but is a great tool in most games once you master it. You can of course choose to just ignore the easy-shift[+] feature, if you don't need the additional set of button functions.
Only the left side of the ROCCAT KONE XTD has groove where you can rest your thumb. On the right side it could have been nice to have somewhere to rest the little finger.
The two main left and right-click buttons have a short travel distance and a very responsive 'click'. As expected for a gaming mouse, all buttons on the ROCCAT KONE XTD feels optimized to allow high click-rates.
+ Great shape for right handed users
+ Good button placement
+ Easy-shift[+] functionality
+ Responsive buttons

– Nowhere to rest little finger
– Takes some time getting used to easy-shift[+]

ROCCAT KONE XTD Software
With the large number of customization options, the driver for the ROCCAT KONE XTD contains a lot of settings. Most users will probably never need all of the available options, but they are very nice to have if you want to fully customize everything.
You are able to configure everything from basics such as sensitivity and double click rate to more advanced stuff like polling rates, distance and tracking control. This is also where you configure the LED colors along the optional light effects and flow. All buttons (except standard left and right-click) can be reassigned to shortcuts or macros as you like, and usage statistics with achievements can be browsed and shared.
Notice that the ROCCAT KONE XTD allows 5 different profiles each containing a complete set of configurations. Combined with the ability to change profiles on-the-fly, this is a very powerful functionality for many gamers. You can either set up individual profiles for specific games, or switch mid-game to a high DPI, low sensitivity sniper profile as needed.
+ Very extensive customization options
+ 5 profiles
+ Possible to map macros to buttons

– Sound notifications are annoying (can be disabled though)
ROCCAT KONE XTD Features
In summary, the main features of the ROCCAT KONE XTD are:
8200 DPI adjustable laser sensor
Integrated Tracking and Distance Control Unit (TDCU)
Switch technology by Omron
8 programmable buttons
Titan 4D scroll wheel
Easy-shift[+] button duplication
4 customizable multi-color LED lights
Braided cable
576KB onboard memory for macro storage
32-bit Turbo core V2 processor
ROCCAT achievements
Weight system with 4 x 5g weights
'ROCCAT talk' FX support
The options for LED color customization make it possible to configure an individual look for your ROCCAT KONE XTD.
With support for ROCCAT Talk FX, this mouse can talk to your other ROCCAT Talk FX capable peripherals and make it even more effective to use macros and easy-shift[+] hotkeys.
Furthermore, ROCCAT Talk FX makes it possible to have your LED settings change dynamically based on game events. Unfortunately, this feature is only supported by very few games at this time, but I am really hoping to see a larger number of supported games in the future. This short video explains the concept:
Unfortunately I have not had the opportunity to try this out, but will be looking forward to trying out a game which has ROCCAT Talk FX support.
Summary and rating of the ROCCAT KONE XTD
The ROCCAT KONE XTD gaming mouse is an advanced piece of technology with a great set of features for any serious (right-handed) gamer. Quality is among the highest on the market, which is to be expected in its relatively high end of the price range. It delivers plenty of options for customization for even advanced needs, and can store several settings profiles for mid-game switching.  The ROCCAT KONE XTD is without doubt among the very best gaming mice currently available, and easily worth its cost.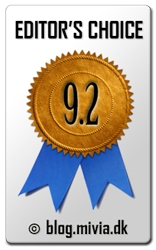 To summarize the review, a score of 1-10 is given in each of five evenly weighted categories, making up a final total score.
Quality 10/10
Ergonomics 9/10
Software 10/10
Features 10/10
Price 7/10
Total Score: 9.2
Mivia's blog highly recommends the ROCCAT KONE XTD!
More details can be found at the official ROCCAT KONE XTD webpage.
No monetary compensation was received for this review, which is based on my own personal opinion and experience with the product. However, I must admit that I am generally a fan of ROCCAT products =)